Whether at home or the beach, Water Safety is vital
Wednesday, August 17, 2022 Amy Wittmeyer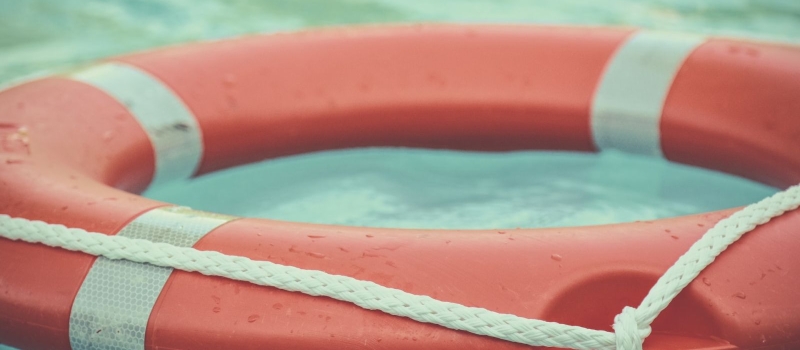 As temperatures begin to climb and summer kicks off, many people will seek water sources like pools, lakes, and even the ocean to cool down and have some fun. Swimming is one of the most popular summer activities in the US and can be very beneficial to mental and physical health. But water, despite its relatively harmless appearance, can be very dangerous if not treated with respect.
According to the Red Cross, over 50% of Americans either can't swim or don't know basic water competency skills, which can prove disastrous with so many of us planning to swim this summer. Drowning is a leading cause of death for children and a risk to everyone who partakes in water sports, whether they're swimming in their backyard, boating in a lake, at a water park, or playing in the ocean shallows. Even non-fatal drowning can cause brain damage and long-term health effects.
General Water Safety
Learning how to swim is one of the most important risk prevention strategies someone can employ to ensure safe water enjoyment of any kind. Water competency is an extra layer of knowledge and skills someone can have to increase safety and be able to prevent or respond to water emergencies. According to the Red Cross, water competency has 3 main components: water smarts, swimming skills, and helping others.
Water Smarts: Take sensible precautions when in and around water
Know your limitations, including physical fitness, medical conditions.
Never swim alone; swim with lifeguards and/or water watchers present.
Wear a U.S. Coast Guard-approved life jacket appropriate for your weight and size and the water activity. Always wear a life jacket while boating, regardless of swimming skill.
Understand the dangers of hyperventilation and hypoxic blackout.
Understand and adjust for the unique risks of the water environment you are in, such as:

River currents.
Ocean rip currents.
Water temperature.
Shallow or unclear water.
Swimming Skills: Learn how to perform these 5 skills in every type of water environment
Enter water that's over your head, then return to the surface.
Float or tread water for at least 1 minute.
Turn over and turn around in the water.
Swim at least 25 yards.
Exit the water.
Helping Others: These actions can help you avoid and/or respond to water emergencies
Paying close attention to children or weak swimmers you are supervising in or near water.
Knowing the signs that someone is drowning

**Calling for help and splashing are signs of distress but not true drowning; true drowning is often relatively quiet
True drowning signs include gasping, head low in the water and tilted back, eyes closed, no forward swimming progress, and not using legs.

Knowing ways to safely assist a drowning person, such as "reach or throw, don't go".
Knowing CPR and first aid.
Lake and Ocean Safety
Swimming in a lake, river, or ocean adds many risk factors. Swimming in any kind of open water is much more difficult, tiring, and unpredictable than swimming in a pool. Many competent swimmers can be caught by surprise and quickly get into trouble in natural water setting. In rivers, currents can pull people away from their group. Distances in lakes and oceans are easily misjudged. In natural environments, underwater obstructions like branches, rocks, and plants can entangle a swimmer or cause cuts, bruises, and abrasions. Even underwater animals like fish and turtles can cause injury with bites or scratches. When swimming in natural environments, keep these tips in mind:
Pay attention to weather forecasts, including precipitation and wind. High winds can affect boats and swimmers with high waves and strong currents.
Seasonal changes can affect water levels. In spring and early summer, rivers are subject to sudden changes in water level due to rainstorms or snowmelt upriver. Water is often still very cold and can cause hypothermia.
Swim at beaches patrolled by lifeguards if possible.
Always have a swim buddy.
In the ocean, be aware of tidal changes, rip currents, beach slope, wave break line, and "sneaker" waves, or unexpected sets of larger-than-normal waves.
Avoid swimming around piers, docks, in rough water, at night, or during thunderstorms.
Resources: