OSHA Safety Training
NYS HAB Training Grants
In addition to conducting workplace training, OSEA can help your organization prepare the necessary paperwork to receive training grants from New York State. We have submitted more than 700 grant applications for companies, municipalities, and agencies with a 98% approval rate.
OSEA can help you complete an application and hopefully obtain funding for safety training. The NYS Hazard Abatement Grant is funding for companies, of any size and type, to pay for safety training provided by a third party organization.
We understand that "applying for grants" can be a daunting task, therefore let OSEA do the heavy lifting for your team. Quality safety training has been proven to reduce accidents and incidents and improve the overall morale of employees. This program is designed to:
Identify, evaluate, and control safety and health hazards in the workplace.
Industries, occupations, or other specific groups of workers with elevated injury or illness rates.
Encourage voluntary compliance with occupational safety and health regulations.
Foster activities intended to prevent workplace accidents, injuries, and illnesses.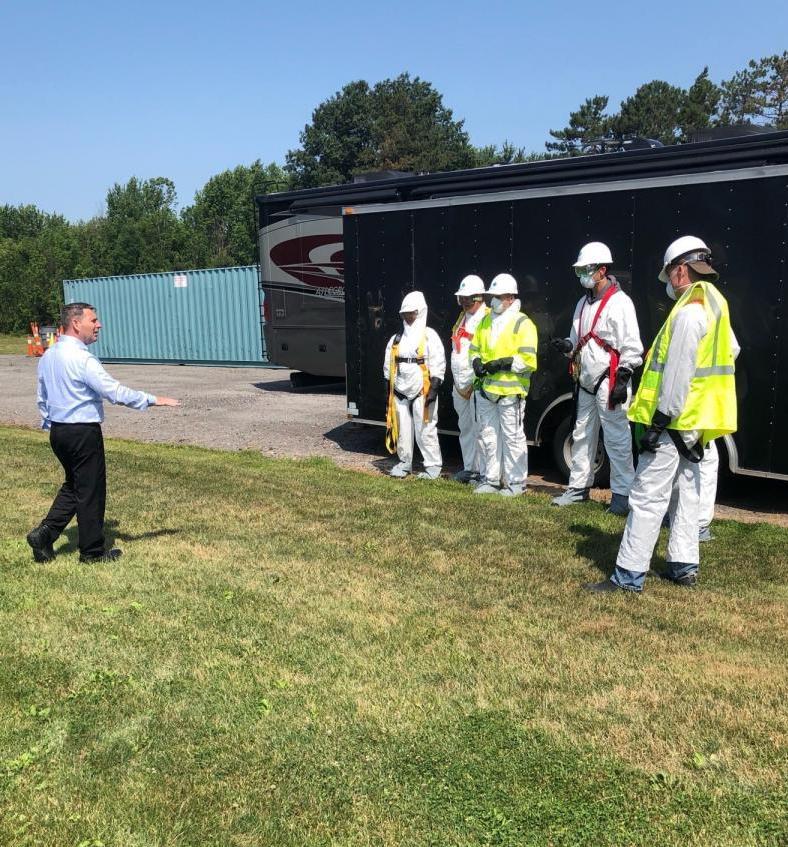 Frequently Asked Questions
The following Q & A should identify if your organization is eligible for a New York State Dept. of Labor Hazard Abatement Board Safety and Health Training Grant:
WHO IS ELIGIBLE TO APPLY?
Public and Private Employers
Labor Organizations or their Federations
Trade Associations
Non-Profit Organizations
Educational Institutions
WHAT ARE THE EVALUATION CRITERIA?
The evaluation process takes into consideration the target group or high-risk population to be reached by the project. Some examples are:
Industries, workplaces or occupations in which employees are exposed to serious health hazards, such as toxic chemicals, high noise levels, or infectious agents.
Industries, occupations or other specific groups of workers with elevated injury or illness rates.
Small employers, local unions, or non-union worker populations who lack occupational safety and health resources.
New or inexperienced workers such as teenagers
WHAT KIND OF TRAININGS ARE SUPPORTED?
General or hazard specific training on how to identify, evaluate and control employee exposure to workplace hazards.
Activities intended to improve the effectiveness of labor-management safety and health committees.
Programs designed specifically to reduce workplace accidents by teaching lockout / tagout procedures, safe electrical work practices, methods of working safely in confined spaces, motor vehicle safety, etc.
Programs emphasizing disease prevention through the control of carcinogens, toxic chemicals, physical hazards such as noise, heat, and vibration, or biological hazards such as hepatitis B virus and tuberculosis bacteria.
Instruction of employees and employers on their rights and responsibilities under the New York State Right to Know Law and OSHA/PESH standards on Hazard Communication, chemical hazards in the laboratories, and specific substances such as lead, benzene, and asbestos, etc.
WHAT IS THE DURATION OF TIME FOR THE GRANT WHEN APPROVED?
The grant projects are funded for a twelve-month period, for example, from August 1 - July 31.
WHAT ARE THE SERVICES OSEA CAN PROVIDE FOR THE GRANT?
OSEA personnel will meet with you and determine if you should apply for a grant.
OSEA personnel will either write the entire RFP or assist you in the process.
OSEA, Inc. can contract with you upon approval of the grant to provide all the services approved in the grant project. You always have the choice to contract with OSEA or any other consulting firm to fulfill the services needed in the approved grant. To request more information on this topic, please email us today or call us at 716-821-0091 ext. 0.