National School Bus Safety
Monday, October 11, 2021 Jade Salzman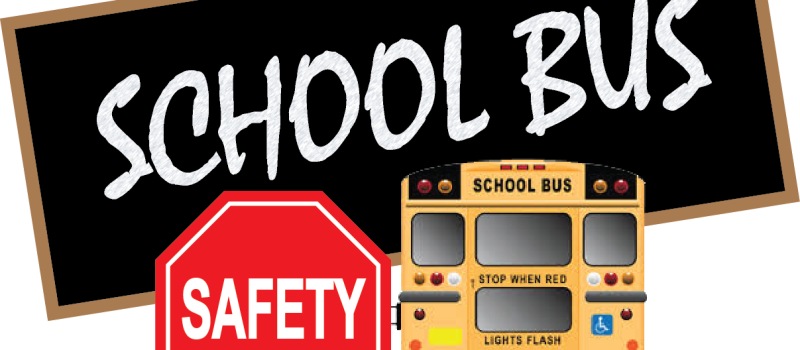 National School Bus Safety
National school bus safety week is annually held the third week of October, this year is October 19th – 23rd. This week is used to promote safety aspects of yellow school bus and encourages all to promote the importance of school bus safety. A recent distributed American School Bus Council (ASBC) brochure noted the safety benefits of the school bus, some but not all safety benefits are:
According to the National Highway Traffic Safety Administration (NHTSA) school buses are the safest form of transportation to and from school.

School buses meet 48 federal safety standards—more than any vehicle on the road.

Riding a school bus is 70 times safer than riding in a passenger vehicle and 10 times safer than walking to school.

School buses are driven by professionals who undergo extensive pre-service training, driving certification and additional testing to ensure that they can drive safely and protect students.
Some important things to teach students are:
Safety starts at the bus stop

Stand at least three giant steps back (six feet)

Bus stop is not a place to run or play

Get on and off safely

Don't get on the bus until the bus has come to a complete stop and doors open

Driver says it's okay to approach the bus door

Use caution around the bus

Never walk behind the bus

Before crossing in front of the bus make eye contact with the driver and wait for a signal from the driver that it's okay to cross
For drivers it is important to keep bus transportation safe for everyone, some practices you can follow to insure this are:
Be alert

Kids arriving late to the bus stop

Children playing

Congregating near the bus stop

Slow down

Watch for people walking/bicycling in the street

Learn to obey the school bus laws in your state
The "flashing signal light system" is used for buses to communicate to other vehicles what's happening. It's important for bus drivers as well as other drivers to understand the meaning of the different lights
Yellow flashing lights indicate the bus is preparing to stop. Other drivers should slow down and prepare to stop their vehicles.

Red flashing lights and extended stop arms indicate the bus has stopped. Other drivers must stop their vehicles and wait until the red lights stop flashing, the extended stop-arm is withdrawn, and the bus begins moving before they can start driving again.
Sources:
National School Bus Safety Week (Oct. 19–23) Promotes Safety Aspects of Yellow School Bus - School Transportation News (stnonline.com)