Stand down for Safety Fall Protection & Struck-by Hazards
Tuesday, April 20, 2021 Greg Santo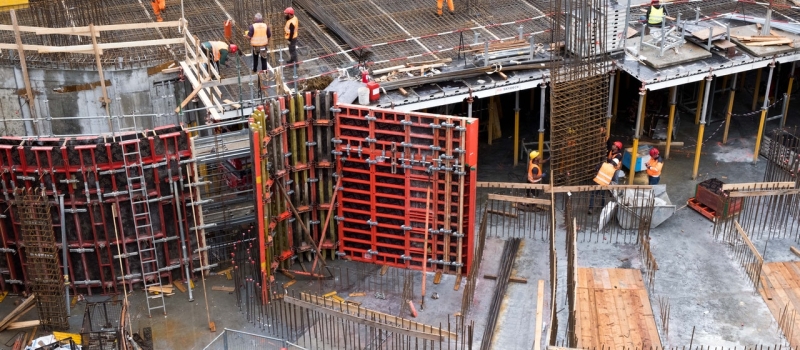 Stand down for Safety Fall Protection & Struck-by Hazards
OSHA has identified four hazard groups that contribute to most of the fatalities that happen in construction. They are:
Fall Protection
Struck-by-hazards
Electrocution
Caught-in-between hazards
The Bureau of Labor Statistics (BLS), a part of the U.S. Department of Labor is tasked with gathering statistics on everything from unemployment rates to tracking injuries and illnesses.
OSHA found that these grouped hazards contributed to about 60% of construction fatalities and developed the Focus Four Hazards in Construction from these statistics and have made them a mandatory component of the Outreach Training Program for Construction (OSHA 10 Hour and 30 hour) training classes.
Fall Protection
The Campaign to Prevent Falls in Construction began in 2012 with construction industry stakeholders seeking a way to raise awareness. This evolved into the National Safety Stand-Down. This year it is scheduled for the week of May 3rd through the 7th.
Falls, despite best efforts, continue to be the number one cause of workplace fatalities in construction. BLS data shows that between 2018 and 2019, fatal falls to a lower level increased from 321 to 401.
That means more than one person a day in our country was killed in a fall to a lower level. This could be someone's father, mother, son or daughter that are spending their last day with a toe-tag in a morgue … and it could have been prevented.
Those figures make it more important than ever to re-focus on fall hazard awareness and the prevention of falls, particularly as employers and employees are dealing with the COVID-19 pandemic.
The Center for Construction Research and Training (CPWR) is an independent organization, CPWR is dedicated to reducing occupational injuries, illnesses, and fatalities in the construction industry. Through their research, training, and service programs, they cooperate with key federal and industry partners nationwide.
The goal of this national campaign is to prevent fatal falls from roofs, ladders, and scaffolds by encouraging construction contractors to:
• PLAN to get the job done safely.
• PROVIDE the right equipment.
• TRAIN everyone to use the equipment safely.
Let's discuss some of the ways falls can be prevented:
Ladder safety
Choose the right equipment. Use ladders mainly for climbing to or from other levels.
Choose the right ladder length.
A sticker on a commercial ladder tells you its maximum weight capacity. Use only type I, IA, or IAA ladders. Ladder rungs, cleats, and steps must be parallel, level, and evenly spaced
The rungs and steps of metal ladders must be grooved or roughened to minimize slipping. Side rails must be at least 11.5 inches apart.
If you use two or more ladders to reach one spot, they must have a platform or landing between them.
Ladder parts must be smooth to prevent punctures or cuts or snagging of clothing.
Wood ladders must not be painted with a coating that can hide defects.
Stepladders: All four legs must be on solid, level ground. The spreaders must be locked fully open.
Never climb on the cross-bracing. Never lean a stepladder against a wall.
Straight and extension ladders: The ladder base should be 1 foot from the building (or top support, such as an eave) for every 4 feet of ladder length up to the resting position. Counting rungs will give you a good estimate of the ladder length; rungs are about 1 foot apart.
When working from or climbing keep yourself positioned between the rails of the ladder.
Use other methods to get materials and tools to your working area.
Maintain three points of contact when ascending or descending a ladder.
Protect yourself - fall harness
Whenever fall protection is needed, make sure you have the right fall-protection system, know how it works, get trained to use it – and use it. When eliminating the hazard and guardrails, or safety nets will not work, you need personal protective equipment (PPE) – fall-restraint systems, personal fall-arrest systems. Restraint systems keep you from falling. Fall arrest systems stop falls. You will need a full-body harness if you use one of these systems. A full-body harness has straps worn around your trunk and thighs, with one or more D-rings in back to attach the harness to other parts of the system.
Choosing a Harness
Learn about the types of fall hazards on your job.
Make sure the harness fits you and is comfortable, to prevent body strain. you can get shoulder and back pads to reduce harness pressure. Full-body cross-chest harnesses are more comfortable for women and can reduce bruising when falls are stopped.
Training
The employer must fit and train each worker for the equipment to be used.
A competent person must train workers at risk of falling about types of fall hazards, how to protect yourself, and other hazards and limitations in using fall protection.
Training must cover all that can happen, like hanging in a harness and implementation of a rescue plan.
If the worksite changes or the type of fall protection equipment is changed, workers using the equipment must be retrained.
Scaffolding
All scaffolding inspected daily by competent person
Erected on sound rigid footing
Base plates and mudsill are being used
Tied to structure, if required
Guardrails in place; top rail, intermediate, and toe board
Sturdy and sound planking on all working levels
Proper access provided
General Requirements
Support own weight and 4X's intended load
Platform fully planked or decked (no gaps greater than 1")
Front edge of platform no more than 14" from face of work
Planks extend at least 6" but not more than 12" past support
Planks overlap 12" over supports
No mixed scaffold components
If higher than 4:1 ratio, restrained from tipping
Maintain power line clearance
No work during storms or high wind
Fall protection required at 10'
No climbing cross braces for access
Aerial lifts (Mobile Elevated Work Platforms) - safety tips
The major causes of fatalities are falls, electrocutions, and collapses or tip overs.
Ensure that workers who operate aerial lifts are properly trained in the safe use of the equipment.
Maintain and operate elevating work platforms in accordance with the manufacturer's instructions.
Never override hydraulic, mechanical, or electrical safety devices.
Never move the equipment with workers in an elevated platform unless this is permitted by the manufacturer.
Do not allow workers to position themselves between overhead hazards, such as joists and beams, and the rails of the basket. Movement of the lift could crush the worker(s).
Maintain a minimum clearance of at least 10 feet, or 3 meters, away from the nearest overhead lines.
Always treat powerlines, wires, and other conductors as energized, even if they are down or appear to be insulated.
Use a body harness with a lanyard attached to the boom or basket to prevent the worker(s) from being ejected or pulled from the basket.
Set the brakes and use wheel chocks when on an incline.
Use outriggers, if provided.
Do not exceed the load limits of the equipment. Allow for the combined weight of the worker, tools, and materials.
Struck by hazards
The 2nd annual National Stand-Down to Prevent Struck-by Incidents will take place April 26th, 2021 — on the first day of Work Zone Awareness Week.
Struck-by incidents are the second most-leading cause of death among construction workers, and since 1992 the leading cause of nonfatal injuries in the construction industry. According to OSHA, the four most common struck-by hazards are being struck-by a flying, falling, swinging, or rolling object.
Some sources of struck-by-hazards:
Cranes and rigging
Properly securing any load with appropriate rigging is crucial to any lifting being done by machinery on the jobsite. If the rigging fails, the results can cause serious injury and even death. Before any load is lifted all components of the rigging hardware should be evaluated to ensure they can withstand the forces of the load.
Follow these safe work practices:
Guard all exposed gears, rotating shafts, pulleys, sprockets or other moving parts to prevent contact with employees.
Guard or block the swing radius of the crane to restrict and prevent employees from entering and being struck by the machine.
Inspect all rigging equipment prior to each lift, this should include all slings, chains, ropes, and like materials used to support and lift materials.
Remove from service any defective equipment immediately.
Be sure to inspect all hooks, clamps, and other lifting accessories for their rated load.
Clearly communicate to all employees on site that no one is permitted to work under loads.
Never approach the crane where the operator cannot see you.
Be sure the person responsible for signaling the crane operator stays in visual contact with the operator and has been trained to use the correct signals.
Work zone traffic safety
Work zones need traffic controls identified by signs, cones, barrels, and barriers.
Drivers, employees on foot, and pedestrians must be able to see and understand the proper routes.
Traffic control devices, signals, and message boards instruct drivers to follow paths away from where work is being done.
Approved traffic control devices, including cones, barrels, barricades, and posts are also used inside work zones.
Work Zone Protections: Various concrete, water, sand, collapsible barriers, crash cushions, and truck-mounted attenuators can help limit motorist intrusions into construction work zones.
Flagging: Flaggers should wear high visibility clothing with a fluorescent background and made of retroreflective material. This makes employees visible for at least 1,000 feet in any direction. Check the label or packaging to ensure that the garments are performance class 2 or 3. Drivers should be warned with signs that there will be flaggers ahead. Flaggers should use STOP/SLOW paddles, paddles with lights, or flags (only in emergencies).
Training: Flaggers must be trained, state certified, and use authorized signaling methods.
Driving: Seat belts and rollover protection should be used on equipment and vehicles as the manufacturer recommends.