It's National Motorcycle Safety Awareness Month
Thursday, May 13, 2021 Ariana Naumovski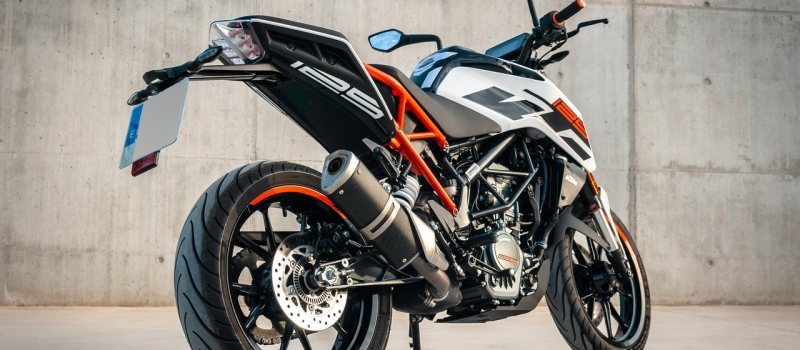 May is National Motorcycle Safety Awareness month. This month brings crucial awareness not only for motorcyclists, but also for other vehicle drivers who share the road with motorcycles.
Motorcyclists are 27 times more likely to die in a traffic accident than people in other vehicles. An astounding 5,014 motorcyclists were killed and 84,000 injured in 2019 alone. It's unfortunate, however, that 30% of those involved in a fatal crash last year did not have a valid motorcycle license.
Not only that, but only 71% of motorcyclists used a DOT-compliant helmet in 2019. Helmets serve a very important purpose; they're there to protect you and your brain if you're involved in an accident. Helmets act to dissipate any force and impact to reduce the force applied to your skull.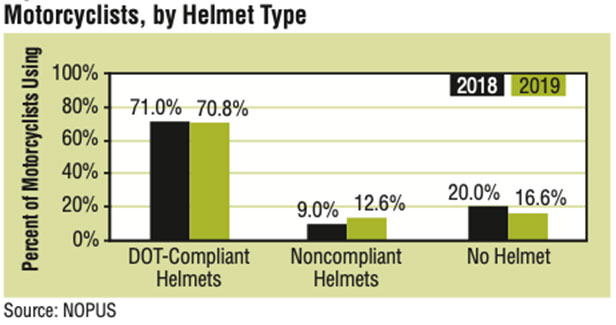 If you ride a motorcycle, wear your helmet! Make sure your helmet is DOT-compliant. This is going to provide you with the best protection. Be on the lookout for fake DOT labels on helmets. Each DOT-compliant helmet will have the following information provided: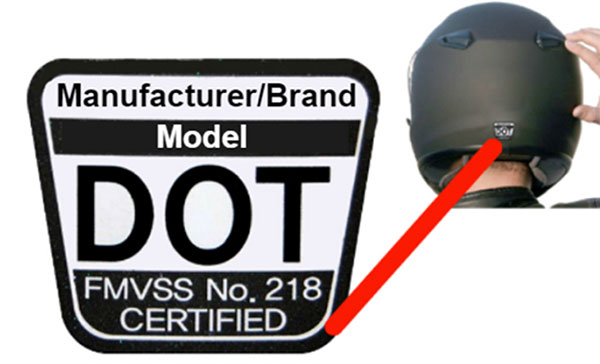 To make your helmet as protective as it can be, make sure you helmet fits properly. Get a helmet that is comfortable to wear and the right size and shape for your head. There are different helmets available for different activities so be sure you grab one for motorcycles.
Unsafe helmets will be less than 1 inch thick, and usually lack a stiff foam inner liner.
Helmets meeting the DOT safety standard have sturdy chin straps with solid rivets. Unsafe helmets may have plastic buckles that can easily break in the event of a crash.
Depending on design, unsafe helmets may weigh a pound or less. Helmets meeting the federal standard generally weigh about 3 pounds.
Be suspicious of helmets with advertisements such as "thinnest helmet available" and "lightest weight helmet."
The DOT safety standard does not allow anything to extend further than two-tenths of an inch from the surface of a helmet. For example, while visor fasteners are allowed, a rigid spike or other such decorations indicate an unsafe helmet.
A design such as the German Army or skullcap style may be a clue to an unsafe helmet. Unsafe helmets are noticeably smaller in diameter and thinner than ones meeting the DOT standard. However, some German Army style helmets may meet federal requirements.
Wear full coverage clothing for every ride. Yes, this means even on those super hot and humid summer days. If you're riding your motorcycle, you should be wearing the right stuff. Don a leather jacket; long, heavy denim pants; boots that cover your ankles; and riding gloves. Remember, to many vehicles, you're not easily seen. So be seen by wearing high-visibility clothing.
Take your motorcycle safety to the next level by having a safe motorcycle to ride. Be sure to inspect before you ride. Check your motorcycle for:
Tire pressure
Tread depth
Hand and foot breaks
Headlights and signal indicators
Fluid levels
Leaks
If you are carrying any cargo on your motorcycle with you, be sure to secure it and adjust the suspension and tire pressure to accommodate the extra weight.
The same goes for passengers on your motorcycle. Prepare your motorcycle to have extra weight on it. Make sure your passenger is holding on to you (around your waist) at all times. They too should wear protective gear. You are in charge of your motorcycle and every rider. Don't be afraid to let your passenger know that. Keep yourself safe and your passenger safe by speaking up when something is wrong.
Consider these additional motorcycle safety tips to have a safe and enjoyable ride:
Stay sober! Don't ride under the influence.
Ride responsibly; follow traffic laws, flow patterns, obey traffic signs and lights, speed limits, and lane markings and signal before changing lanes.
Ride defensively
Check the weather – don't ride in wet or dark conditions
If you're starting to get sleepy, don't ride!
Get licensed! Don't ride unless you're qualified to do so. Riding a motorcycle and driving a car require different skills and knowledge.
Riding a motorcycle can still be fun and enjoyable all while being safe. If you're not a motorcyclist, please always keep an eye out for those who may be sharing the road with you. Keep your distance from motorcycles and share the road safely.

Happy riding!
Sources: