30 Years Ago
Monday, December 6, 2021 Liz Bermingham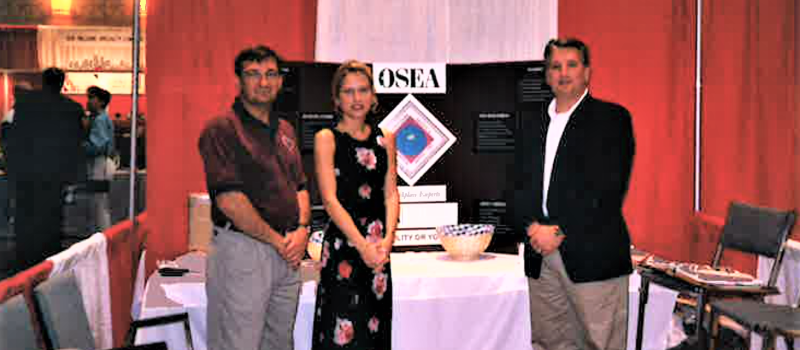 30 YEARS AGO, I remember the day John and Gina took me out to dinner downtown with my husband, John. During dinner, John and Gina talked about how they were going to start their own safety, environmental, and training company. The passion in their eyes and commitment to this journey was telling. So much, I jumped aboard the ship, at their first offer. I was excited about this business endeavor, not only because I love and majored in business, but because they would be saving lives and I was happy to be a part of their passion.
The journey began on December 9, 1991. After some legal encounters, we moved from a different company from downtown to N. Benzing Road in Orchard Park, then to Blasdell, to an old funeral home. This old funeral parlor still held caskets when we moved in! There were many scary stories that transpired, while we resided in that location. One story, I recall, was the day lightning strikes a telephone pole outside the office and caused the server, phones, and most of the computers to go down. (Almost electrocuting one of the staff!) Then we moved back to Orchard Park, where we currently reside on California Road. In between all the moving, two remote offices were opened in Syracuse, NY and Charlotte, North Carolina and new clients and friendships developed in other parts of the state and country.
The path on this journey was not an easy road. Although the struggles brought many obstacles, the successes outweighed them. Training took off, as OSEA opens their first training center on N. Benzing Road. NYS DOL grants became an integral part of OSEA's fabric, as well as the resident safety professional programs. Environmental services also began to grow, and the location of jobs expanded. We traveled from Sri Lanka to NYC to London, the Bahama's, and many more places. There were many staff members that came and went, but I'm certain everyone contributed someway to the growth of OSEA, and I know John and Gina loved working and meeting them all.
Amid the struggles, John and Gina never wavered from their commitment, at least from what they shared, or what I observed in the office. The struggles to forge through were not much different from any start-up company, I'm sure! These challenges were financing, staffing, marketing, client retention, 401k, budgets, cash flow, computers, internet, remote offices, health, and corporate insurance decisions. These were only some of the challenges and they became daily vocabulary words instilled in us forever. Unfortunately, we've added Covid-19 and pandemic as new challenges and vocabulary words in 2020.
I don't know if Gina and John will ever truly know how many lives' they saved over the past 30 years, or lives they changed forever, but I know one of them, me. Thank you both, John and Gina, for being true and committed to your passion. OSEA has made a difference in the world, more then you will ever know.